CLEARANCE
Shark® AI Robot VACMOP™ PRO
The Shark® AI Robot VACMOP™ PRO RV2001WD combines powerful vacuum suction & sonic mopping for a complete clean, all in one robot. Clean hard floors with simultaneous vacuuming and mopping or tackle floors and carpets with powerful vacuum suction.
$419.99
$599.99
You save $180.00
A COMPLETE CLEAN. ALL IN ONE ROBOT.
Introducing the Shark® AI Robot VACMOP™ Pro. It vacuums and wet mops all at once with the next-generation intelligence of AI Laser Vision and IQ Navigation™.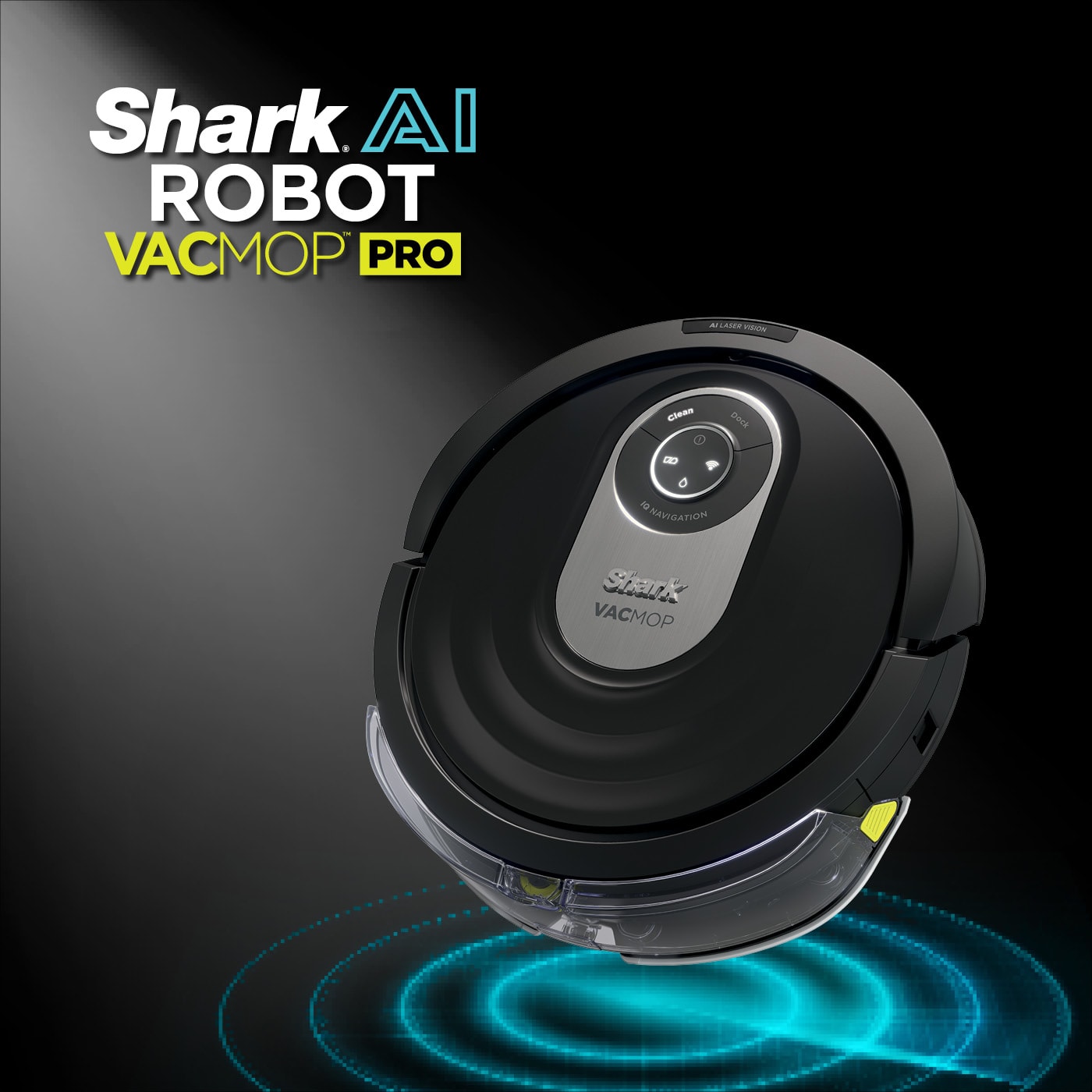 TWO MODES, ONE ROBOT.
VAC MODE & VACMOP™ MODE Powerfully vacuum your hard floors and carpets or simultaneously vacuum and wet mop your hard floors.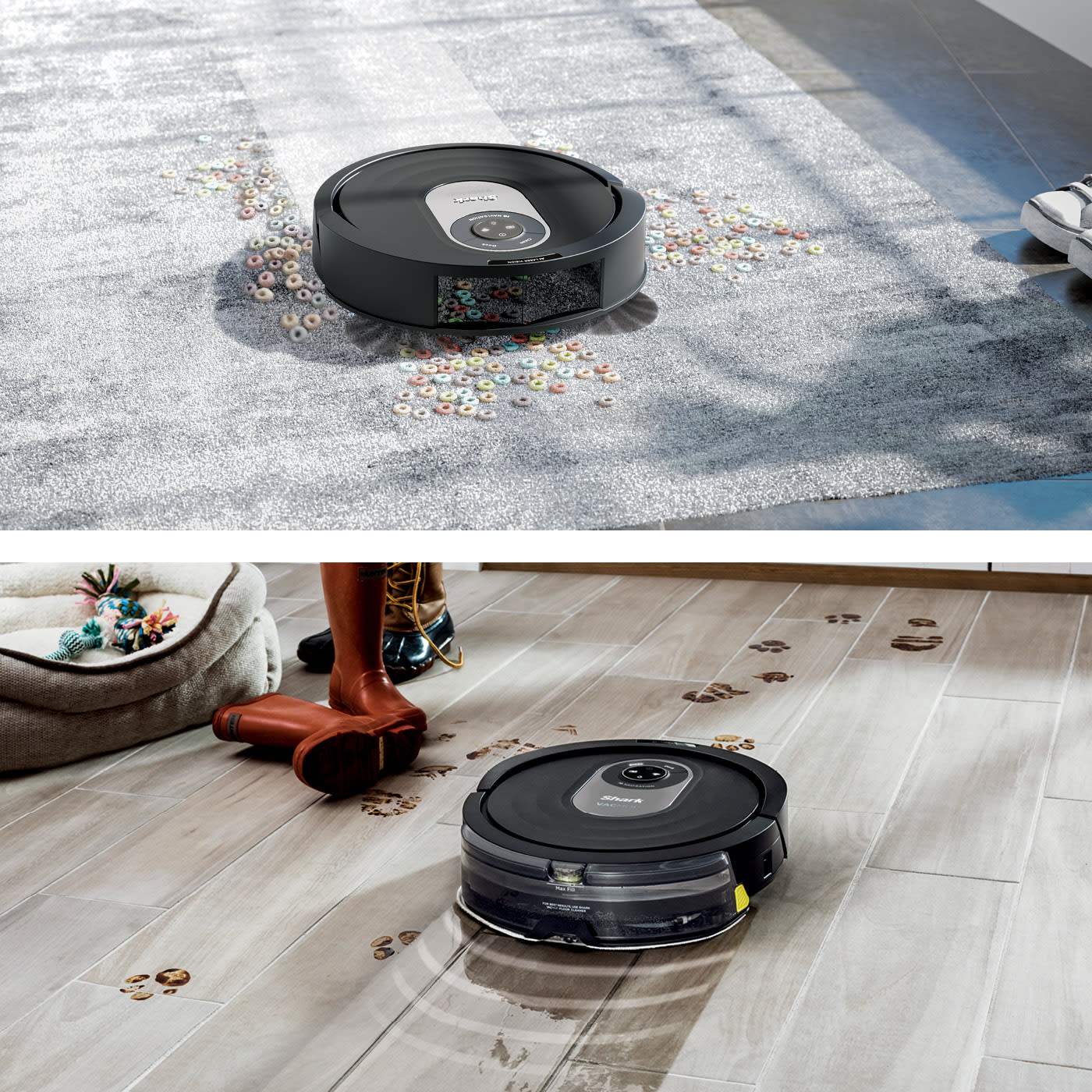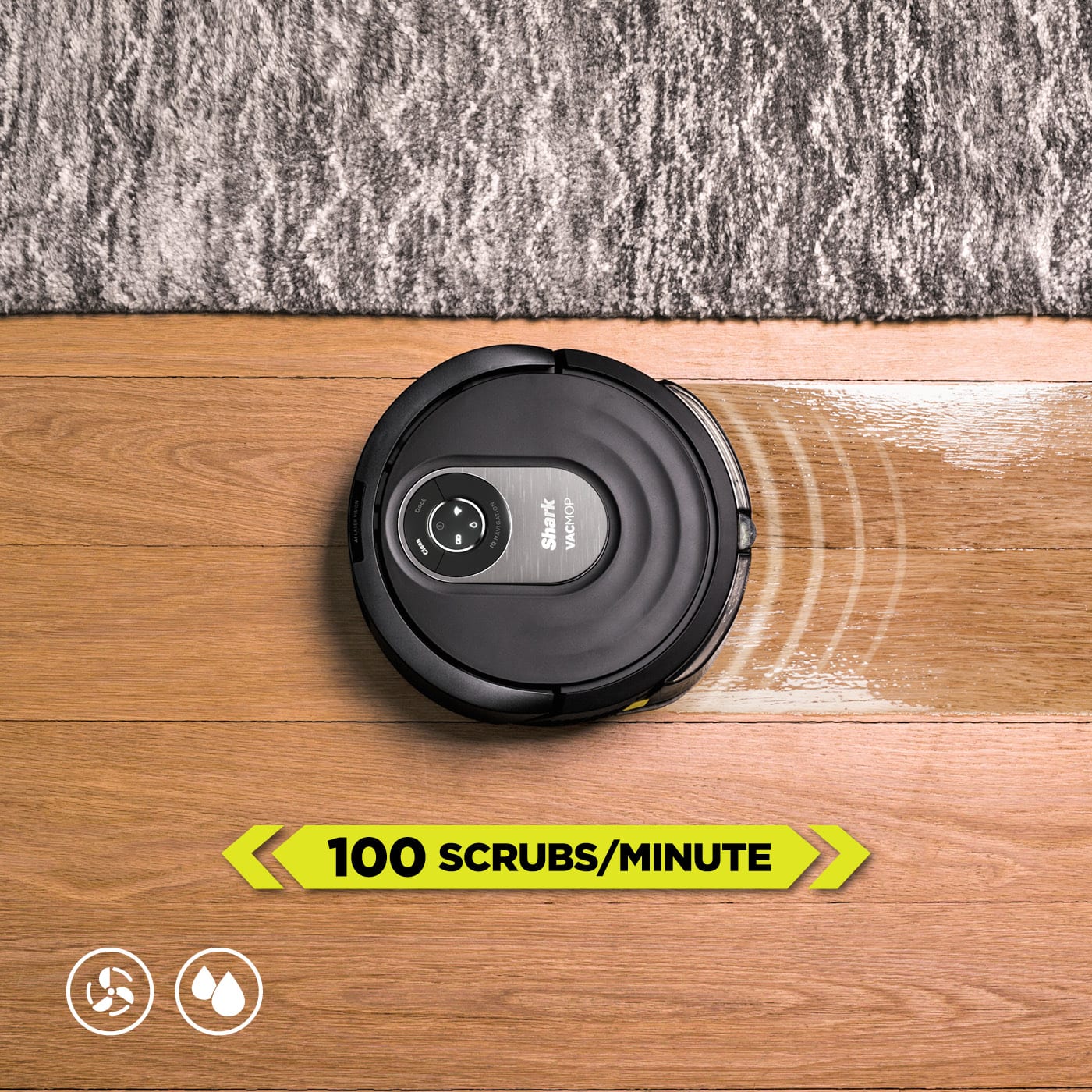 VACMOP MODE: VACUUMING + WET MOPPING ON HARD FLOORS
Sonic wet mopping scrubs 100 times per minute, in continuous contact with your sealed hard floors to break down messes.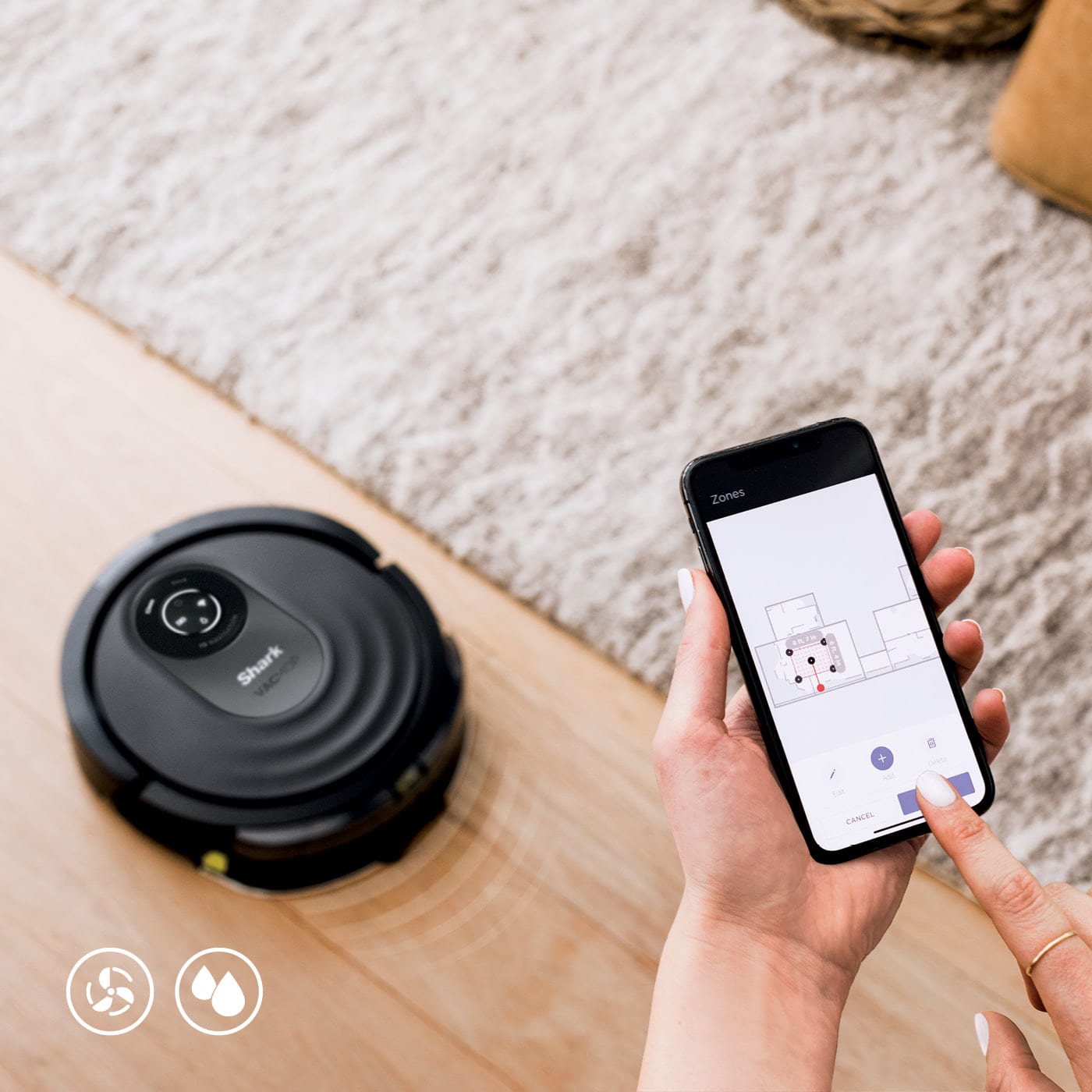 IN-APP CARPET DETECTION
Create carpet zones in the app to avoid carpets while vacuuming and mopping in VACMOP mode and to increase vacuum suction in VAC mode.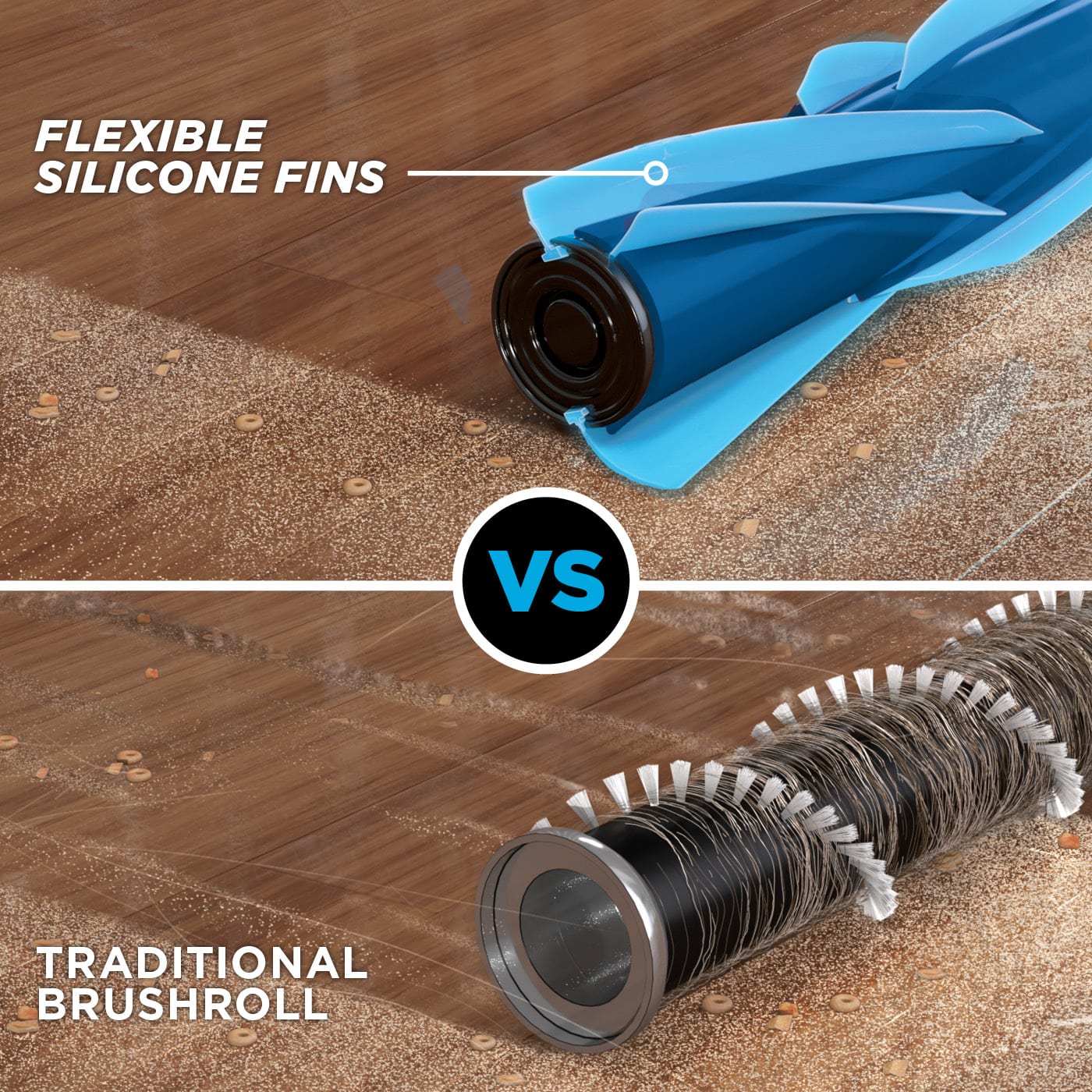 VAC MODE: POWERFUL VACUUMING FOR FLOORS—AND CARPETS
More vacuum suction power than Shark ION RV750. Pick up large and small debris as well as pet hair on carpets and hard floors.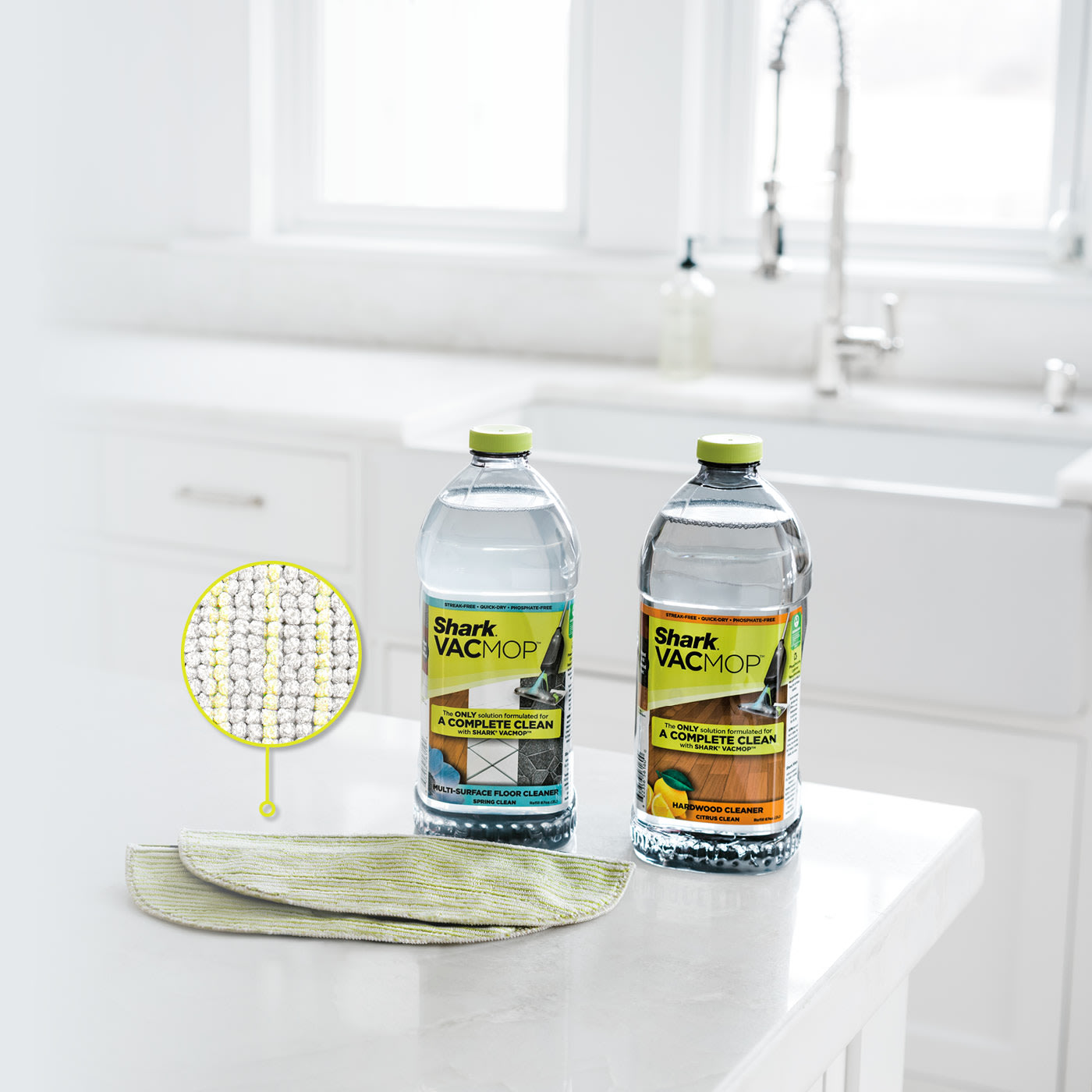 A COMPLETE CLEAN WITH SHARK VACMOP
VACMOP reusable mop pads and cleaning solutions are specifically designed by Shark to deliver a complete, streak-free clean on your sealed hard floors.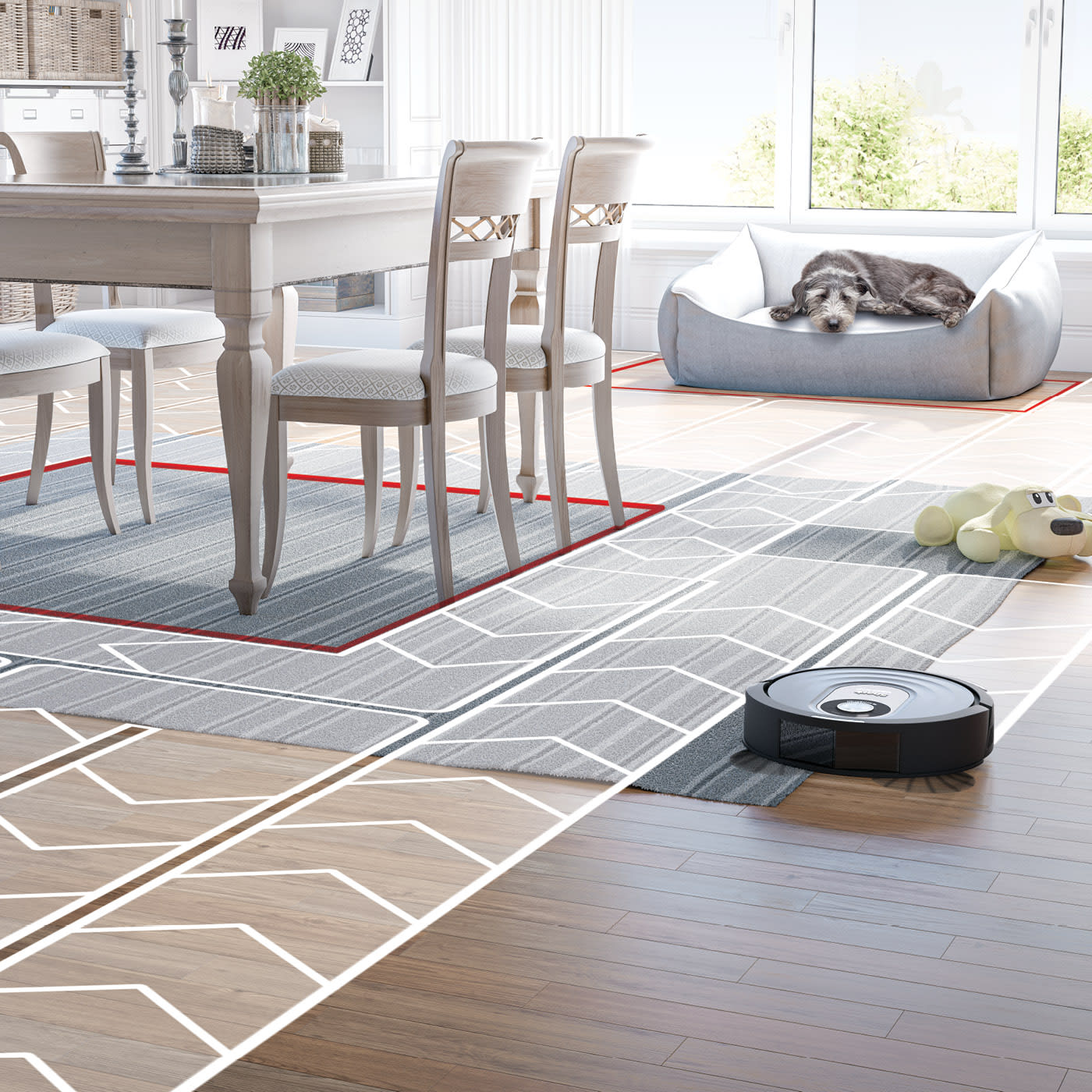 AI LASER VISION + IQ NAVIGATION
An intelligent vision module detects* and avoids objects and responds to no-go zones, all while cleaning row by row for better coverage.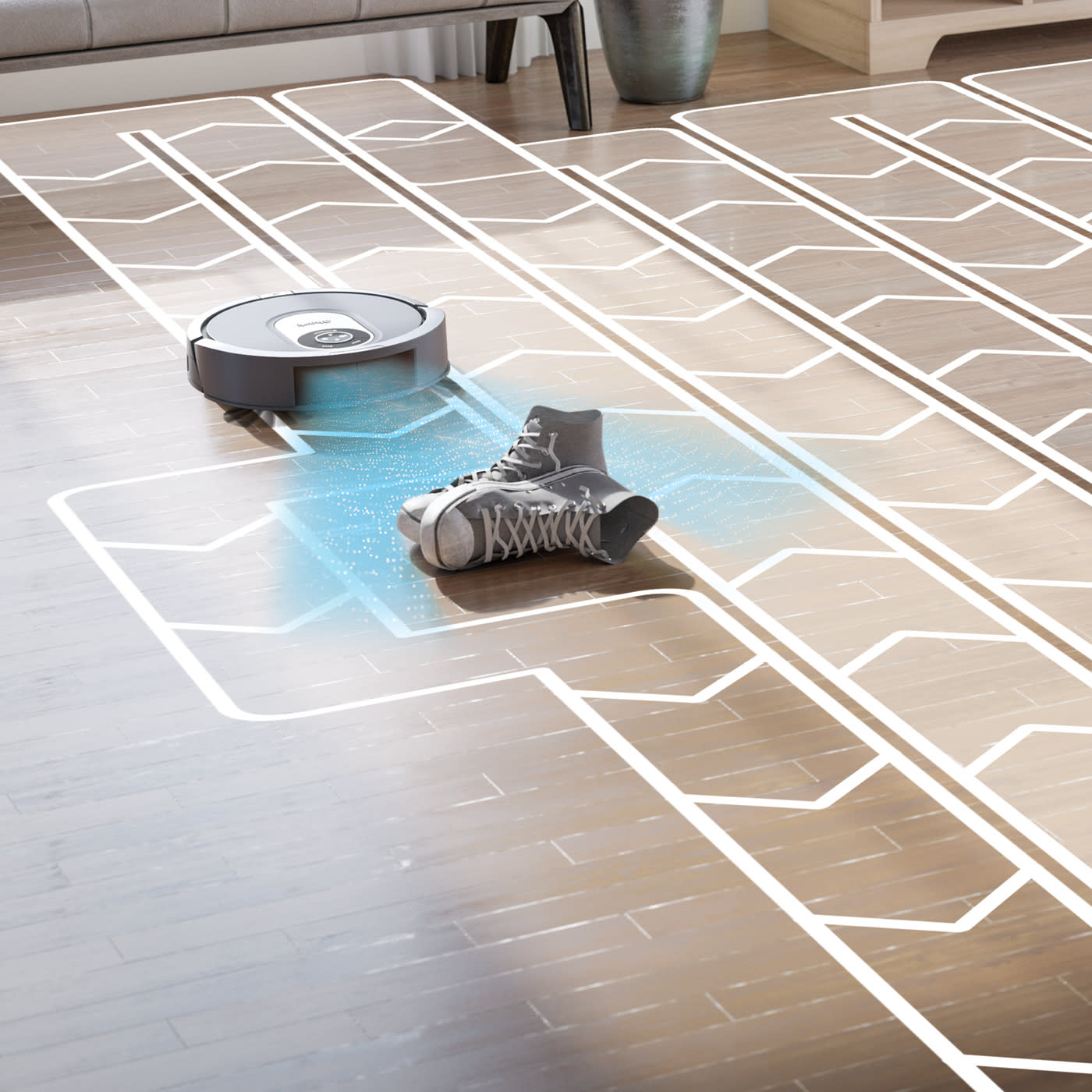 OBJECT DETECT* AND AVOID
AI Laser Vision intelligently detects* and avoids objects as the robot cleans your floors.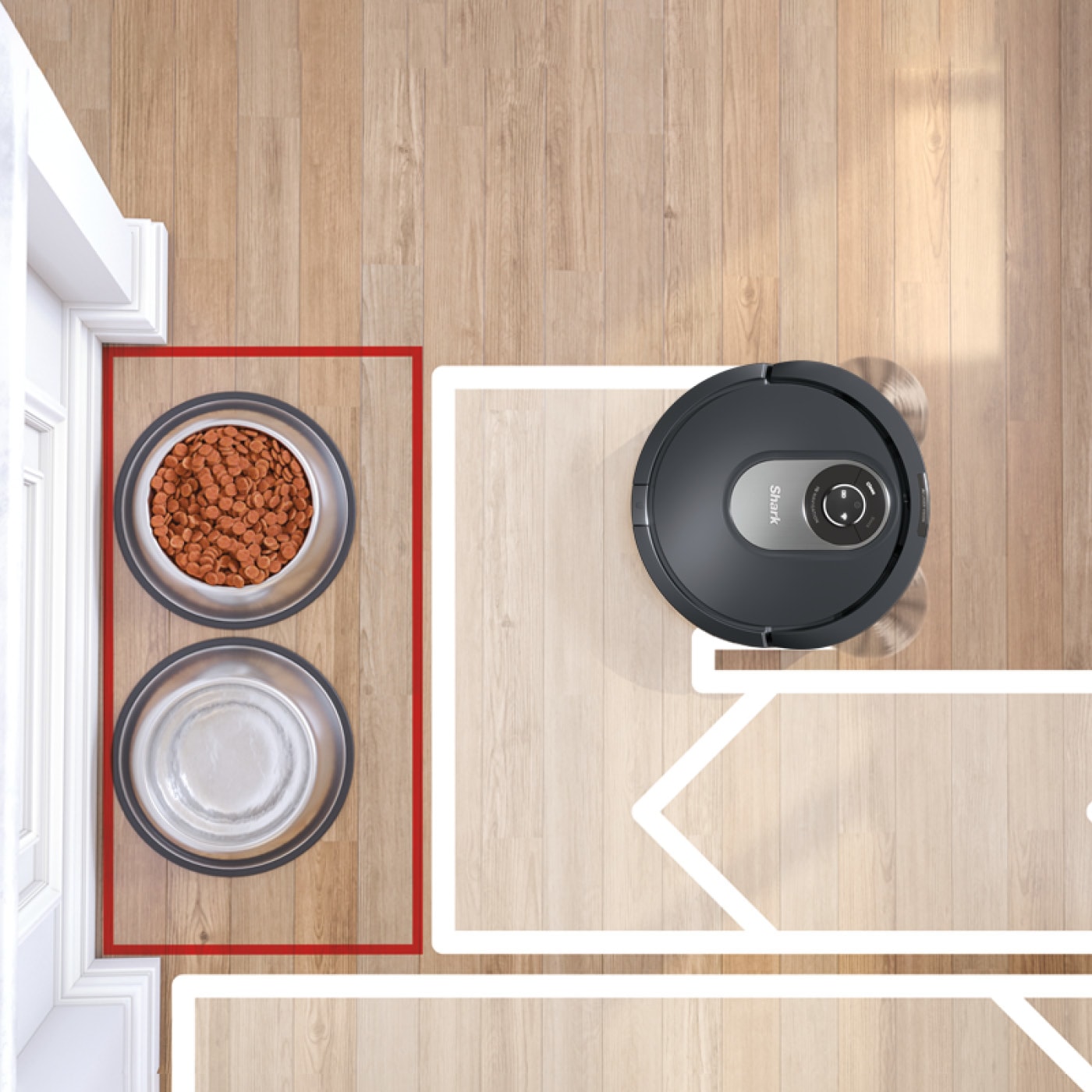 NO-GO ZONES
Create no-go zones in the SharkClean app to block off stationary obstacles like pet bowls or cords.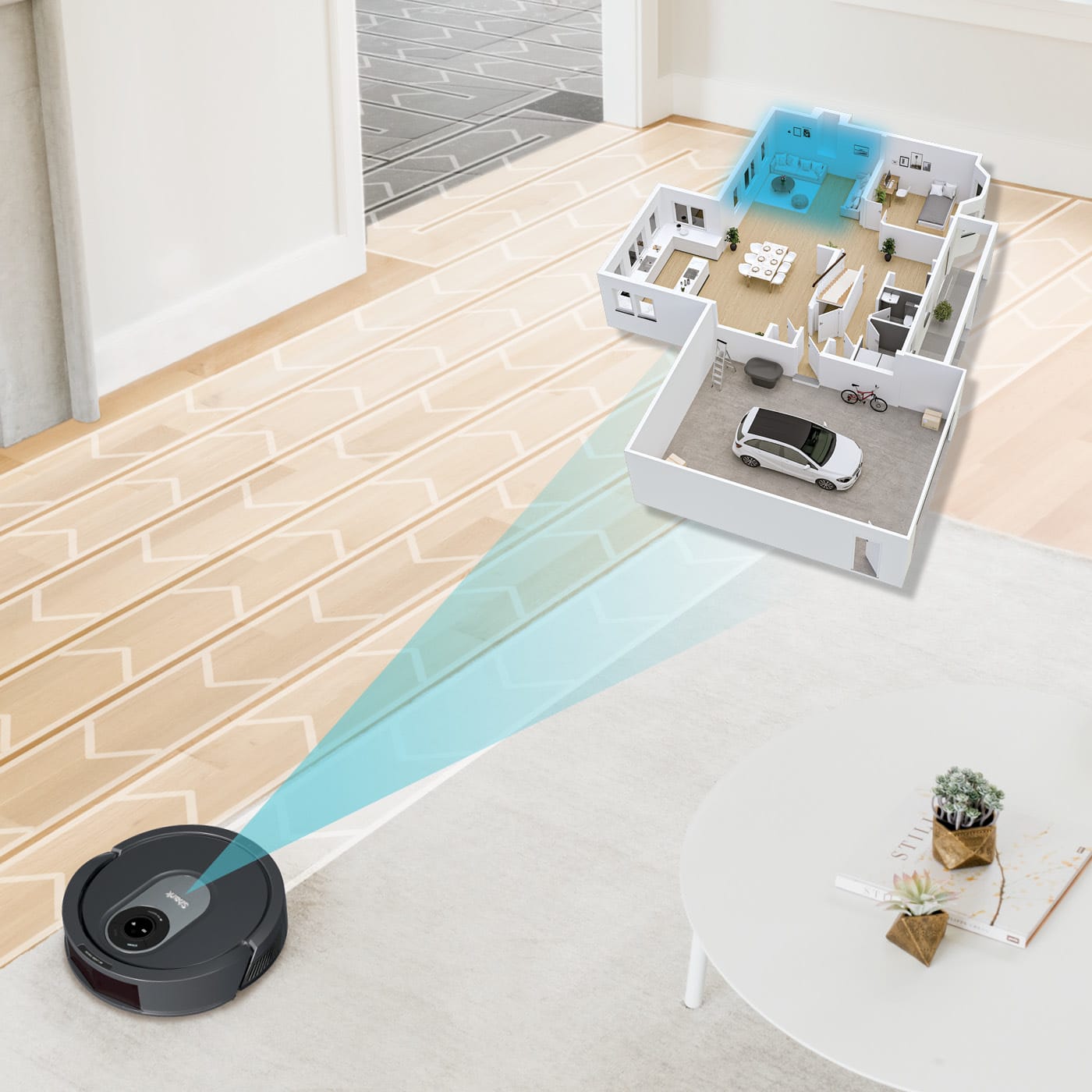 ADVANCED HOME MAPPING + ROW-BY-ROW CLEANING
Shark IQ Navigation cleans your home row by row, room to room for 50% better coverage vs. traditional robots*. It maps your home so you can label rooms within the app, or select a room for your robot to clean immediately.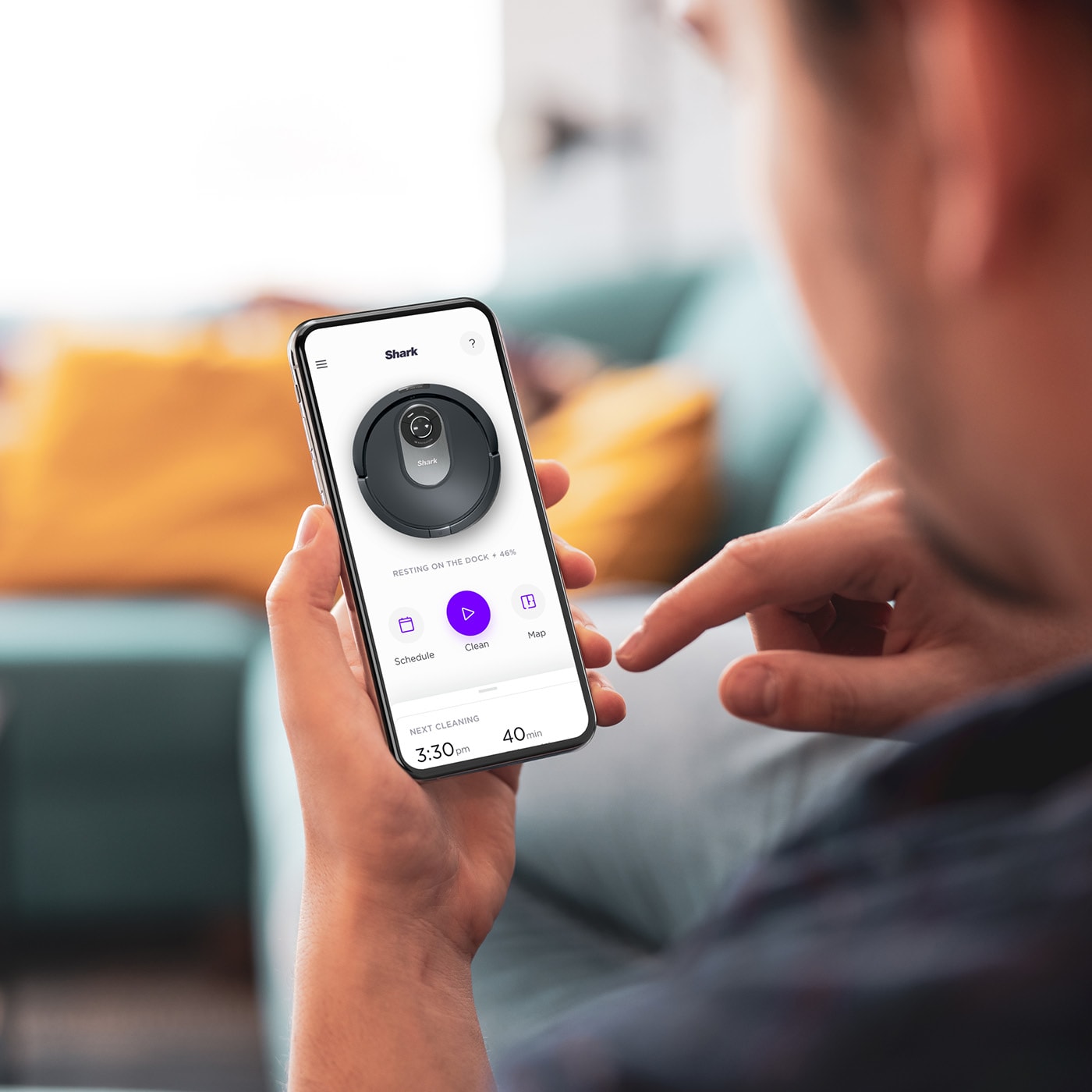 COMPLETE CONTROL FROM ANYWHERE
Schedule whole-home cleanings or select specific rooms to clean immediately through the SharkClean app or voice control via Amazon Alexa or Google Assistant.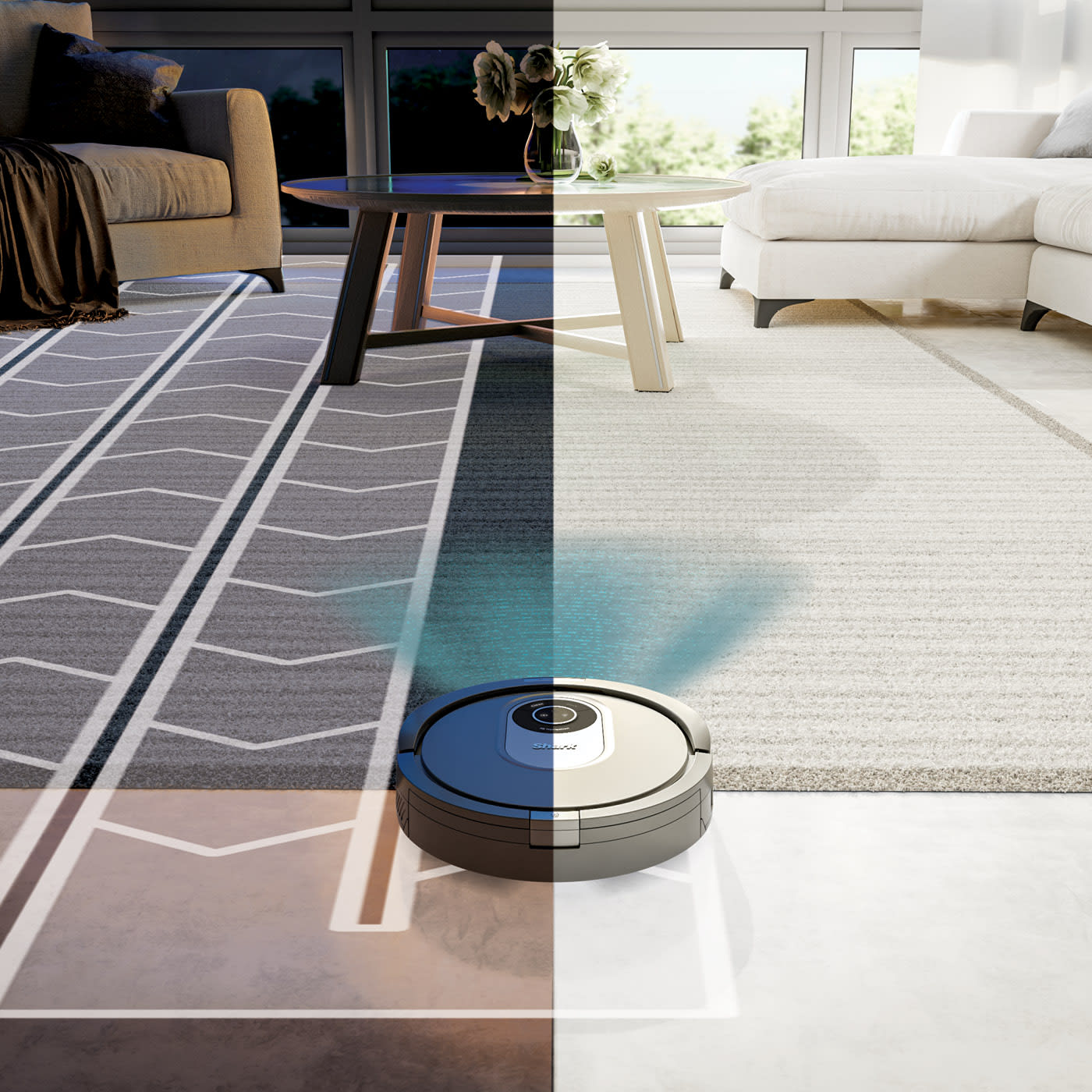 DAY OR NIGHT
With AI Laser Vision, your robot can even see in the dark for anytime cleaning.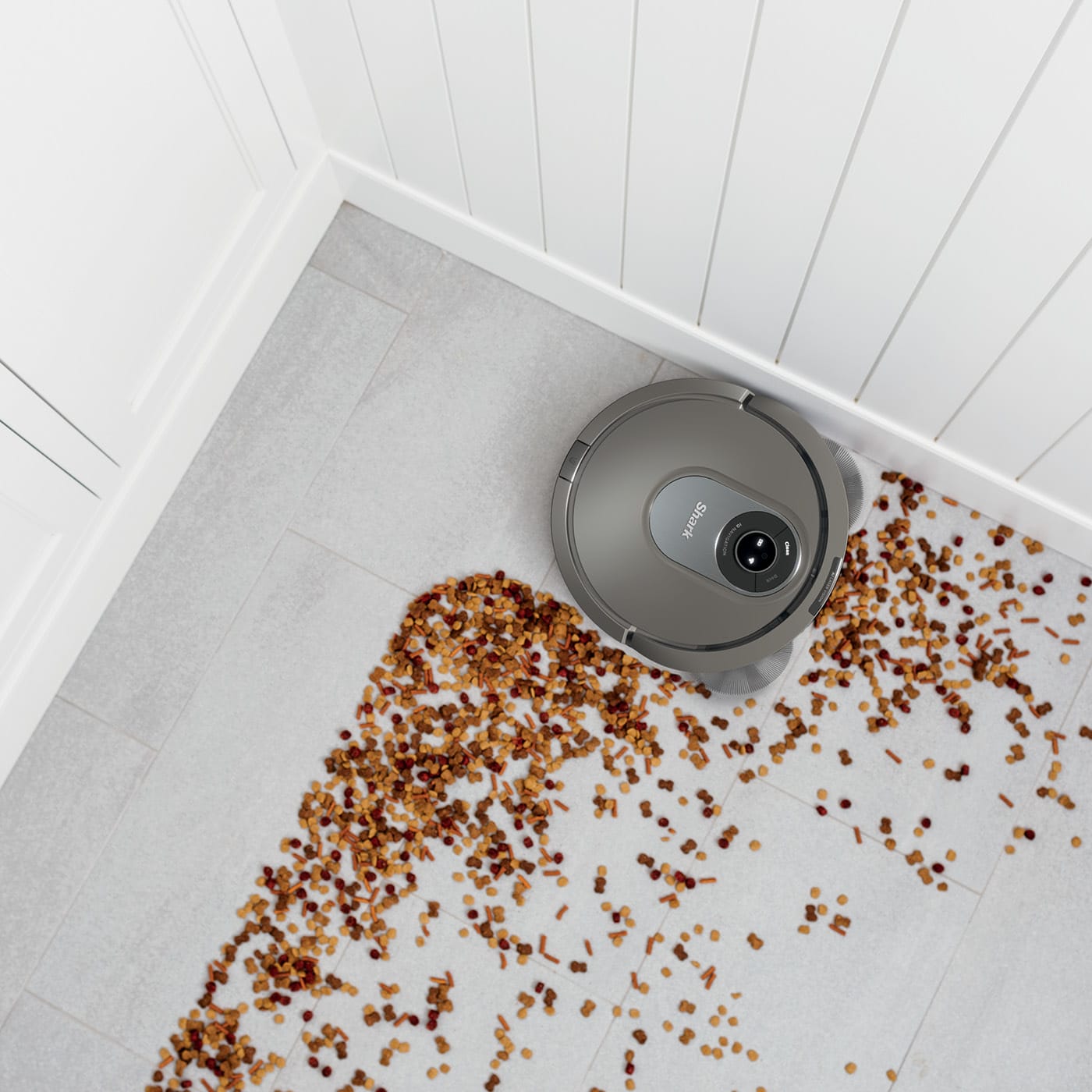 DUAL SIDE AND CORNER BRUSHES
Brushes on both sides of the robot pull in debris from edges, corners, and hard-to-reach areas.
The Shark® AI Robot VACMOP™ PRO RV2001WD combines powerful vacuum suction & hard floor mopping for a complete clean, all in one robot. Clean hard floors with suction & sonic mopping, or tackle floors & carpets with powerful suction & intelligent cleaning. Shark's IQ Navigation™ is now smarter with AI Laser Vision, helping your robot avoid objects and respond to no-go zones as it cleans row by row, room to room.
• VACMOP™ MODE: Powerfully vacuums and mops your floors at the same time, while avoiding carpets with in-app carpet detection.
• 100 SCRUBS PER MINUTE: Sonic Mopping™ scrubs your floors at high speeds to break down messes.
• POWERFUL CLEANING PERFORMANCE: Incredible suction picks up all kinds of dirt and debris and in UltraClean Mode™, you get 30% better carpet cleaning (vs. RV1100AE single pass coverage, tested with sand on level loop).
• ON-DEMAND DEEP CLEANING: Select UltraClean Mode™ in the SharkClean® app to target specific rooms, high-traffic zones, or spots for multi-directional deep cleaning coverage.
• PERFECT FOR HOMES WITH PETS: With powerful suction and Shark's self-cleaning brushroll, the robot picks up pet hair and removes it from the brushroll as it cleans.
• PRECISION HOME MAPPING: LIDAR technology quickly and accurately maps your home so you can set up cleaning areas and No-Go Zones in the SharkClean® app.
• DETECTS & AVOIDS OBJECTS: AI Laser Navigation™ ensures total home coverage with precise row-by-row cleaning, day or night, while detecting and avoiding objects 4 inches high or taller.
• COMPLETE HANDS-FREE CONTROL: Set a cleaning schedule, initiate on-demand cleaning, or activate UltraClean Mode™—all with sound of your voice, using Amazon Alexa or Google Assistant.
• VACMOP™ PRO ACCESSORIES: Includes two extra reusable microfiber mopping pads and an extra 12 oz. VACMOP™ starter solution to kickstart your complete clean.
| | |
| --- | --- |
| Hazmat Class/Battery Cell Type | UN3481 – Lithium Ion Battery with or in Equipment |
| Cleaning Path Width | 13.77 cm |
| Color | Black |
| Wattage | 35.3 watts |
| Warranty (years) | 1 |
| LED Lights | Yes |
| Weight | 7.6 lbs |
| Product Dimensions (cm) | 31.8 cm L x 34.34 cm W x 8.84 cm H |
| Voltage | 16.8 volts |
| Dust Cup Capacity | 0.26 L |
| Amperage | 1.8 amps |
| Filter Type | washable fabric filter (pre motor) |
| Number of Batteries Included | 1 |
---
Free shipping on all orders over $75*

SharkNinja offers a 60-day money back guarantee for purchases from this Site, or for select products, a 90-day money back guarantee. The applicable money back guarantee will be stated with your order.
*does not apply outside of Canada. Orders to be shipped to Northwest Territories, Yukon or Nunavut or other territories outside of Canada or to an international address are subject to a surcharge.
---
(1) Shark® AI Robot VACMOP™
(1) Charging dock
(4) Side brushes
(1) Filter
(4) Mopping pads
(1) 12oz VACMOP™ starter solution
---
Shark® AI Robot VACMOP™ PRO